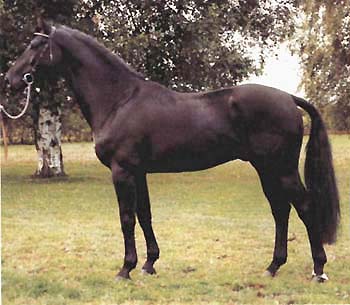 1987 16.2 H Oldenburg stallion, Approved CWHBA
GOLD Premium Canadian Sport Horse Sire
Gervantus sire Grannus, himself a successful show jumper up to advanced level is the kind of jumper producer you can rely on. Around the globe Grannus' offspring are to be found when it comes to show jumping: Grannusch/J. Whitaker, Imperial/R. Pessoa, previous German 6-year-old-showjumper champion Gaston/ H. Sprunger, Grand Slam/N. Skelton, Golo/G. Wiltfang and F. Sloothaak, Governor/P. le Jeune, Garfield/M.Jensen, Top Gun La Silla/Jan Tops, Grand Plaisir, Remus Equo, Warship, Gracieux and many more.
In breeding one has to name Grannus's sons Gunther (Warendorf state stud), Good Luck (Rhineland), Oldenburg champion stallion Gervantus I (Netherlands) Grand Canyon (Oldenburg) Grasco (Oldenburg) Graf Grannus (Hannover) Granulit (Oldenburg) Good Luck (Oldenburg) Gio Granno (Oldenburg) Grand Amour (Westfalen) and many more.
The maternal line is originated in the stat premium mare St.Pr.St.Gervante. From this dam-line comes the winner of many S-level competitions - Fidelio (by Furioso II) ridden by Dietrich Schulze, Gento (three-day-eventer ridden by H. Melzer) and Freischutz (European junior dressage champion with Susanne Stoll).
Gervantus II's dam Gentana II also gave birth to the champion stallion Gervantus I mentioned above who after being used for breeding in Oldenburg and Baden Wurttemberg, now stands in The Netherlands and is the sire of international winners such as Braveheart - winner at the CIO; Georgina at CSI and Giselle under Ludo Philippaerts.
His dam's sire Vollkorn xx, has written his own chapter in the Oldenburg book of sport horse breeding. He sired the three-day-eventer stallion Volturno/O. Ammermann, the dressage horses Vallauris/A.K.Kroth (born:Linsenhoff),Vago/H.D. Wolff. In Hanover the stallion Varus became a well known sire. Manoelete xx in the third generation is named among the pioneers of the Oldenburg sport horse breeding program in the early 1960's.
Breeding Fee: $625.00 + GST - Frozen Semen only
Contracts: Breeding Contract
*These forms are in PDF format. Please download, and print off. If you cannot access the forms, please contact us.
The Gervantus II 1995 dark bay son, Gamour CH, secured his place at the Beijing Olympics with wins at CCI3* Baily Bor (Poland) 25-27.04,2008 from a field of 26 competitors, and at Barroca d'Alva (Portugal) 5-9.3.2008 from a field of 48 competitors.
Gamour CH, by Gervantus II out of Lorelie by Liras/Indigene de Corday SF is owned and ridden by Tiziana Realini who competed as the lone qualifier from Switzerland.
PERFORMANCE RECORD
Gervantus II passed both the German stallion performance test in Medingen and the one in Switzerland in Avenches. Ridden by Urs Fah, he was a member of the Swiss Nation Team.
Gervantus II was a winner of several Niveau S and International, including at the CSI-W in Paris, where he placed three times in three starts; the CSI-A in Zurich, where he also place three times; and in Mannheim, where he place second in the Grand Prix.
In preparation to European championship 1999, Gervantus II was forced to retire due to injury.
Gervantus II - Progeny
 

Gervantus II's first crop was born in Westphalia in 1991 and received premiums. 1993 and 1994 fillies by Gervantus II were well placed at mare shows in Germany and Switzerland.

His daughter Gazel was awarded State Premium status in Switzerland and was sixth placed out of 126 mares on the shows. Gervantus II also sired the 2000 foal champion in Avenches Switzerland. In general it is type and movement that mark Gervantus II's progeny.

Sire of:
Stallion son - Granit XII CH - winner at Niveau S
Granada IV - qualified for the 2000 Young Horse World Championship in Zangersheide
Dior X CH - winner in open classes
Georgette CH - winner in open classes
Gervinka CH - winner in open classes
Granada CH - winner in open classes
Leopard II CH - winner in open classes